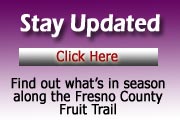 2021 Fresno County Fruit Trail
Welcome to the 2021 Fresno County Fruit Trail! Whether you're a first-time visitor or returning "customer," we welcome you to experience the bounty produced by Fresno County family farmers and enjoy your visit to our rural communities.
We will provide updates on the website and Twitter @GoFruitTrail throughout the season, but also recommend that you contact your favorite stand before you plan your trip to make sure you hit the perfect time to buy that special fruit variety you're looking for. We look forward to your visit to California's heartland! Our family farmers, Chambers of Commerce, businesses and the County of Fresno welcome you to enjoy your time on the Fresno County Fruit Trail.
The Fresno County Fruit Trail is a self-guided tour through California's agriculture heartland was created through a partnership between the elected and civic leaders and the farmers in Eastern Fresno County. The Fruit Trail celebrates the beauty, flavor and culture of this region. We invite you to enjoy orchards full of ripe fruit literally bursting with flavor, Nature's best, California Grown, from the leading agricultural county in the world.
Video Virtual Opening of 2020 Fruit Trail
Get a preview of what to expect on the Fruit Trail this year, with a special introduction from Fresno County Supervisor Buddy Mendes!